11th February 2018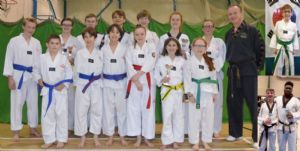 Bath TAGB Tae Kwon-Do enjoyed great success at the recent South West Championships after sending 18 of its students to Hutton Moor sports centre in Weston-super-Mare.

Of the 18 students competing, 5 returned with trophies. Debutante Millie Sharma took silver in the patterns division on her first outing. Danielle McMenemy continued her successful run achieving silver in patterns and bronze in sparring. Black belts Cleo Jefferies and James Tolfree took silver and bronze respectively in their sparring divisions.
The story of the day went to Connor Beckles who, after mistakenly being put in the heavyweight division, unbelievably got to the final to take silver. Club Instructor Master Morris said:
"It was a brilliant day with some amazing results. Cleo fought her heart out; young Millie also did very well on her debut. Tournament regulars James and Danielle are continually improving. What Connor did was incredible. With great bravery (fighting in the Adult division for the first time), he took up the challenge. I advised him not to mix it with these big men but hit and move, score and keep out of the way. He employed this advice brilliantly and fought with the heart of a lion".
Keanu Downer, whom Connor fought in the final, was a medalist in last year's World Championships. He proved to be one heavyweight too many and took gold, but, as Morris points out:
"Connor gave a very good account of himself on the day, having been at the club since he was six years old; he's well-loved by all members. I couldn't be prouder, as I am with all the students who took part."