22nd April 2018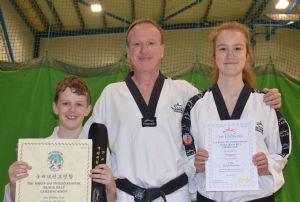 Two members of Bath TAGB Tae Kwon-Do club made black belt history last weekend. Callum McBride became the youngest Bath student to attain a 1st degree black belt and Cleo Jeffries the first to reach black belt second star. Callum had to perform under the scrutiny of 5 Grand Masters, whilst Cleo was graded by five 6th degree Masters.

Club instructor, Master Robert Morris, said "Callum walked into our club 5 years ago, at the age of 5 years. He took to Tae Kwon-Do straight away, rarely missing a class and always training hard. Its such a fantastic achievement for Callum at the age of just 10, he's an inspiration to all the young students currently training towards black belt. I'm incredibly proud."

The star system was set up by the TAGB to encourage junior students to keep training after black belt, given that the time between 1st and 2nd Dan is longer for a junior than it is for an adult. "Cleo became the first Bath student to attain 2nd star, which is a fine achievement and shows her commitment towards gaining her 2nd degree black belt. She's a credit, both to her family and the club."

Bath TAGB Tae Kwon-Do, based at Culverhay sports centre, is currently taking on new students. For information about the club, contact Rob Morris on 01225 873885 or visit www.bathtkd.com andwww.facebook.com/footandfist.