25th May 2018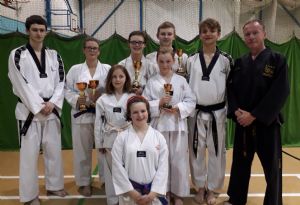 Four members of Bath TAGB Tae Kwon-Do club have enjoyed success at the recent Welsh National Championships held at the University of Cardiff Arena.

Ten members participated amongst a total of over 1000 competitors. Success came for Genna Bell (Silver - blue belt patterns and Silver - blue belt heavyweight sparring), Danielle McMenemy (Silver - green belt heavyweight sparring), Amber Tolfree (Bronze - yellow belt middleweight sparring) and James Tolfree (bronze - black belt patterns).

Club instructor, Master Rob Morris, said: "It was another great day for the club. To bring back five medals from 10 competitors is a great result and a credit to the hard training these students have put in preparing for this tournament. I'm extremely proud."

Robert Taylor, Theresa Halliwell, Farheen Chowdhury, Milla-Louise Halliwell, Edi-Rae Halliwell and Connor Beckles all performed well in their respective divisions.