3rd August 2018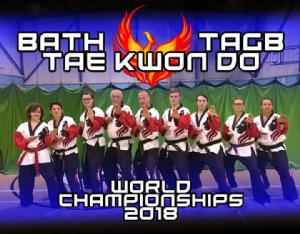 Bath TAGB Tae Kwon-Do recently sent a strong line up to Birmingham's Barclaycard Arena to compete in the TAGB World Championships - the largest martial arts tournament of its kind in Europe.
Led by 6th Dan black belt Master Robert Morris, who competed in the patterns division, coming 5th with his performance of So San (the longest black belt pattern at 72 moves), the team provided both competitors and officials for the occasion, with a couple of notable wins.
Danielle McMenemy took silver in sparring and Genna Bell a bronze in patterns. Morris said "I couldn't be more proud of Danielle and Genna. A medal in a World championship, consisting of over 2000 competitors is an outstanding achievement. They're a credit to their families and Bath Tae Kwon-Do."
"Katy Halliwell, Theresa Halliwell and James Tolfree officiated on the Saturday and competed on the Sunday and all performed well. It's great to see such commitment to Tae Kwon-Do. Tom Fenton, Graham Fulford and Milla Louise Halliwell all represented the club well in their respective pattern divisions and I'm extremely proud of them all."